Fool for Maps
I am a fool for maps. Have been since I was about 6. My grandfather gave me his atlas that was published in 1937 and I was hooked. As a kid, I could sit and study a map for hours and hours.
Maps eventually become a part of my constant thinking. When I was about 8, we went on a family trip to Washington DC. At the hotel room, I studied the map for a bit and then put it away. I then proceeded to lead my parents through DC the rest of the week without referring to the map again.
At one point as a child, I decided that I wanted to be a cartographer when I grew up. Ironically, I did, at least for a bit. I started out studying political science in college only to have a geography professor lead me back to my first love. I think he could see the look in my eyes when I looked at maps.
Since college, I have worked quite a few jobs that primarily involved mapping in various industries. One of my big pet peeves has become people making maps that don't know much about mapping. I have heard people say that it is just an art form and that there is no science to it but this is complete nonsense.
I am working on some ideas to create a "map of the week" for the blog. I have all the software I need, but I'd love to get suggestions for some ideas of things to map and ideas of where to get some free data. I can use any data that has a latitude/longitude or data for various census geographies such as counties or block groups. Email me with ideas.
In the meantime, I thought I would highlight some particularly interesting and beautiful maps. Enjoy!
This nice old map reminds me of the ones in my grandfather's atlas.
I particularly like the way the water is drawn in this map of Manhattan from 1916.
Being an Atlanta native, I love seeing how my city has changed over the years.
This one of Atlanta is from around the time I was born. Amazing how much has changed.
I love maps like this that portray interesting information.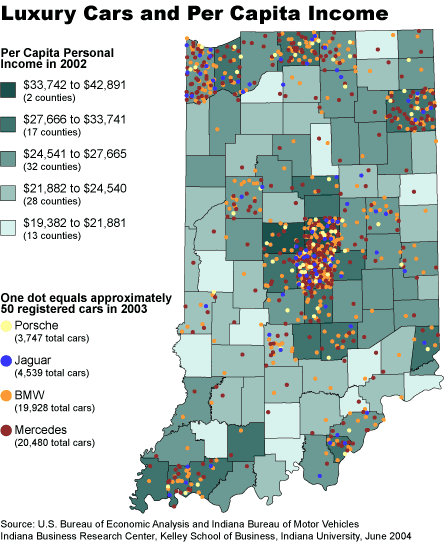 This is a nice example of a thematic map with a dot density overlay.
I love this beautiful map of one of my favorite cities, Siena Italy.
I'm also a sucker for well-done 3D maps.