The 2006 Dignan Road Show: Day 2
(Sorry it took me a couple of days to post things. Finally recovered.)
5:00AM - Wake up. Did I even go to sleep?
5:45AM - In the car and driving down Broadway. I wish I had more time. When does anyone ever have the opportunity to drive around Manhattan with hardly any other cars on the road?
6:00AM - Coming out of the Lincoln Tunnel into New Jersey. Even in the dark rainy morning, Manhattan looks beautiful.
6:15AM - I have always heard how ugly northern New Jersey. But nothing prepared me for this.
7:00AM - For some unknown reason, I decided to slow down as I came over a hill. Good thing because I would have been nailed for speeding by the Fuzz (otherwise known as the PO-leece).
7:30AM - Going over the bridge into Delaware. "Uh, hi. I'm in Delaware"
7:45AM - Entering Maryland now. Yep, Delaware really is that small.
8:15AM - Entering Baltimore. I give a call to the
Jollyblogger
, but the timing isn't going to work today. Sorry David.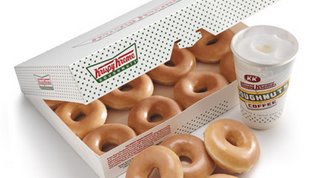 8:30AM - Fortunately for me, I had already made an exit to go to Glen Burnie. And to my great delight, what appears as I get off the exit but Krispy Kreme. Let the "Hallelujah Chorus" begin!
9:00AM - Somewhere between Baltimore and Washington DC on the Baltimore-Washington Parkway. Does every exit go to some top secret government installation? Hmmm...there's the NSA, then Fort Meade, then NASA.
9:30AM - Washington, DC. I have always loved DC. I used to go there a lot as a kid. Wish I had time to hang around today. Alas!
11:00AM - Richmond, VA. I am making ridiculous time. Was I really in New York just five hours ago. I give my friend Glenn in Charlottesville a call to let him know I won't be swinging by today. At this rate, I may get home in time to see the kids before they get to bed.
11:45AM - Found some fast cars with radar detectors to follow. Hurray!
1:15PM - Durham, NC. I wish Randall and Shelly still lived in Chapel Hill. I would definitely stop for them. Got to press on.
3:00PM - Just past Salisbury, NC and the pace is picking up. It is like the freakin' Cannonball Run out here. I haven't been below 80mph in quite some time.
3:15PM - Gotta stop for gas. Haven't stepped out of the car since Baltimore. And haven't eaten either. Not going to yet.
3:30 - Passing through Charlotte, NC.
4:30 - Coming into hated Greenville, SC now. I can't believe I really lived there for a year.
5:15 - Just entered into Georgia. I swear the speed just went up at least 10mph for everyone out here. Burt Reynolds has nothing on me.
6:15 - Pulled into my driveway. Can I really be home before dark? Un-freakin' believable! And not a single speeding ticket. And get to see the kids. And get to watch the last two rerun episodes of Season 2 of "24". And the collapse into a coma. I love road trips!